An Interview with Kristof Van Reusel
In this latest instalment of our Spotlight series Shout Out UK's Hind Dihan interviews Kristof Van Reusel, a Belgian marshal, who was one of the last people to see French racing driver Anthoine Hubert before his untimely death at Spa-Franchorchamps in August.
Why did you want to get involved in motorsport?
Despite having no racing history in my family, I got bitten by the racing bug at the age of 6. Until the age of 9 I went karting for fun. Soon after, my local karting centre started to organise small racing events, which I participated in without big luck until after experiencing some races I managed to get myself up onto the podium. At that point it was clear for myself that motorsport was "my thing" and I wanted to continue this in the future.
How did you get involved in motorsport?
After my karting career I  had the chance and privilege to meet some people who were active in the "big" motorsport business. In September 2005, at the age of 19 I applied to the RACB (Royal Automobile Club of Belgium) to be a Trainee Pit and Track Marshal at Zolder and Spa-Francorchamps.
After participating in some small track days at Zolder, I did my first race in 2006 as a Trainee Pit Marshal during the "Spa Euro Race". I was put in a team at the end of the pitlane to observe the technical and safety protocols during the pitstops. After that weekend, I got the motivation to strengthen myself in this job got bigger and bigger.
What does your job normally entail and how long have you been doing it for?
I have 14 years of experience as a "Pit & Track Marshal" for the RACB. I am, together with a team of other highly experienced marshals, responsible for all the safety precautions in the pitlane during all the sessions of the race weekend. During the track activities I am posted at a marshal post on the racetrack and I am with a team (mostly 2 to 4 persons) where we control the safety on the track in the surrounding of our post.
What has your experience been like as an LGBTQ+ person in motorsport? Have you found the industry to be quite accepting and are there any challenges that you've faced as a result?
My experience as a gay person in motorsport has been quite good up till now. Of course, you run into some "macho types" who have some picture in their heads that we are not "made for the job" but I don't bother with them. 
I get my satisfaction from the fact that we have such a big amount of respect from 95% of the people that surround us during the race weekends. In the beginning, you are afraid of being yourself and push away who you are just to "be part of the game". But after my years of experience being a marshal, I have taken the big mental step of coming out and just being who I am. 
Sometimes I even get comments from some teams or organisations that they really respect LGBTQ+ people for being actively involved in motorsport.
What advice would you give to someone who wants to get involved in motorsport?
Just be yourself, don't be afraid of who you are and what you stand for. You will receive big support from the motorsport world no matter your sexuality or gender identity. Respect yourself like you respect others!
Moving onto what for some is quite a delicate topic, I heard that you were one of the last people to see/talk to Formula 2 driver Anthoine Hubert before the race and that you had a drink with him the day before he died. What was that like for you now in hindsight?
It all started on Friday morning, during the weekend briefing by the FIA and RACB. I got posted to Anthoine's box. He knew I would be there as a marshal during the weekend in Spa, but he didn't know I would be his pit & grid marshal. 
I hadn't seen since him since his last win at Paul Ricard, earlier on the season. I still remember him entering his car and shaking my hand before heading to the track for first practice. When F2 was finished for that day, Antoine headed to his engineers for strategic meetings.
Later on I was walking in the paddock, together with another good friend of mine, an Italian pit marshal who was invited to help at the grand prix when Antoine walked right into us. I asked him to have a drink at the hospitality zone. He agreed and we had fun that evening. We talked about the race on Saturday, which he would start from 13th on the grid and the difficulties he had with the tyre balance on his car.
He told me he hoped for a good start and that he could manage his tyres during the race and get a good result. After an hour or two, we said goodbye. I also told him I would be his grid marshal for the feature race on Saturday.
The next day a few hours before his last race I sent him a "good luck message"; he answered it with a heart emoji.
Saturday afternoon and I was present at his car in the F2 pitlane before he was in the box. When he entered the box, I saw his smile through the visor. He was 100% ready to attack and aim for big results. I escorted his car out of the box, into the pitlane, heading for the starting grid.
Minutes later, on the grid, I shared a few words with him, wishing him good luck but not taking him out of his concentration zone. When the formation lap started, he gave me one last thumbs, up before disappearing into the first corner.
The race started fine but, as we know tragedy struck. Just seconds after the 2nd lap started; the race was red flagged. We didn't know what happened, we were still on the starting line behind the safety wall.
We got notified on the radio that we had to report to our respective boxes immediately, to keep our drivers in the pitlane. Minutes went by and the first cars returned to the pits. Some remained empty, Antoine's one of them. A fear came upon me. I hoped everything would be okay.
Once all the remaining cars re-entered the pitlane, the ambulances and extraction cars went on track. At the point we realized something very serious was going on. When the extraction car enters the track, it means the driver isn't able the get out of his car under his own power. We were just told over the radio that a big shunt, involving multiple cars, had happened at the top of Eau Rouge. 
Then we got a radio message that a crash had occurred, two drivers were heavily injured and unable to exit their car: Juan-Manuel Correa and Antoine Hubert.
A quick note 
At the top of the Eau Rouge complex on the second lap Giuliano Alesi had gone into a spin. Ralph Boschung, following behind, avoided Alesi. Hubert, in trying avoid Boschung avoiding Alesi, clipped the back of Boschung, sending him into the barriers on the outside of the corner. 
As Hubert's car rebounded back into the runoff area, it was side on to Juan Manuel Correa, who was also taking avoiding action, but whose path was blocked by the Frenchman's car that was side on, a T-bone ensued.
Hubert's car reportedly took at least three side on impacts: when it hit the barrier on the right, during the collision with Correa on the left and again on the right after the Correa impact. 
Correa was left with serious leg injuries. At the time of writing he is still in rehabilitation but was recently videoed using a videogame simulator. Back to Kristof.
During that same message we were notified the race would not restart.
The fear started to build once more. I was praying that everything would be okay for Antoine and Juan-Manuel. The minutes that passed felt like hours. 
Finally, almost 40 minutes after the crash, the first medical car re-entered the pits. We got informed that both drivers were being taken to the track medical centre and that one driver, Antoine, had suffered life threatening injuries. 
I burst into tears on hearing the news. I went to Arden's team manager to inform them on the medical condition of Anthoine, but he told me that he had succumbed his to injuries.
At that moment my world shattered. Losing a dear and respected friend, just doing what he loved most was heart-breaking and devastating for me. Thanks to my Italian colleague, I managed to get back to our marshal office and oversee the situation. 
That evening, I stayed at the end of the pitlane, at the bottom of the Eau Rouge and burst into tears. I couldn't' quite believe that this had happened, especially to someone so dear to me. I watched the track technical crew at top of the Eau Rouge fixing the barriers and tyre walls at the place of the accident. That night I didn't sleep, I stayed at the track, I did not have the strength to drive home.
On Sunday morning, when all marshals arrived at the track, we saluted all of the medical crews, taking all medical cars, ambulances and tow trucks. They did a lap of honour for Anthoine. 
Again, my eyes filled with tears, hoping I would be mentally strong enough to get through the day. Silence ruled in the F2 and F1 paddocks. Just before the Grand Prix, all the F1 and F2 drivers gave their last salute to Anthoine, the rising star, on the starting grid. The mood was so dark and painful, but we did what Anthoine would have wanted us to do. We continue. We raced!
For the Grand Prix itself I was posted at STR (Scuderia Toro Rosso). I shared a few words with Pierre Gasly, one of Anthoine's best friends, just before he got in the car. Like us, he couldn't quite believe what had happened. After the race, there were no celebrations out of respect for Anthoine, the Arden team and his family.
In the evening after the race, my Italian colleague and I went to the top of Eau Rouge, to the place of the accident. Standing on the actual place where a good friend lost his life, practising his passion, just gives you a different perspective on what life really means.
At the place of the accident, some fans had made a tribute to Anthoine with a board full of messages. Feeling all the pain with what had happened, the messages gave me a warm feeling. We could see how loved and respected Anthoine was! Now, almost 6 months after that horrible weekend, there still isn't a day that goes by that I don't think of Anthoine, his joy of life and his passion for racing.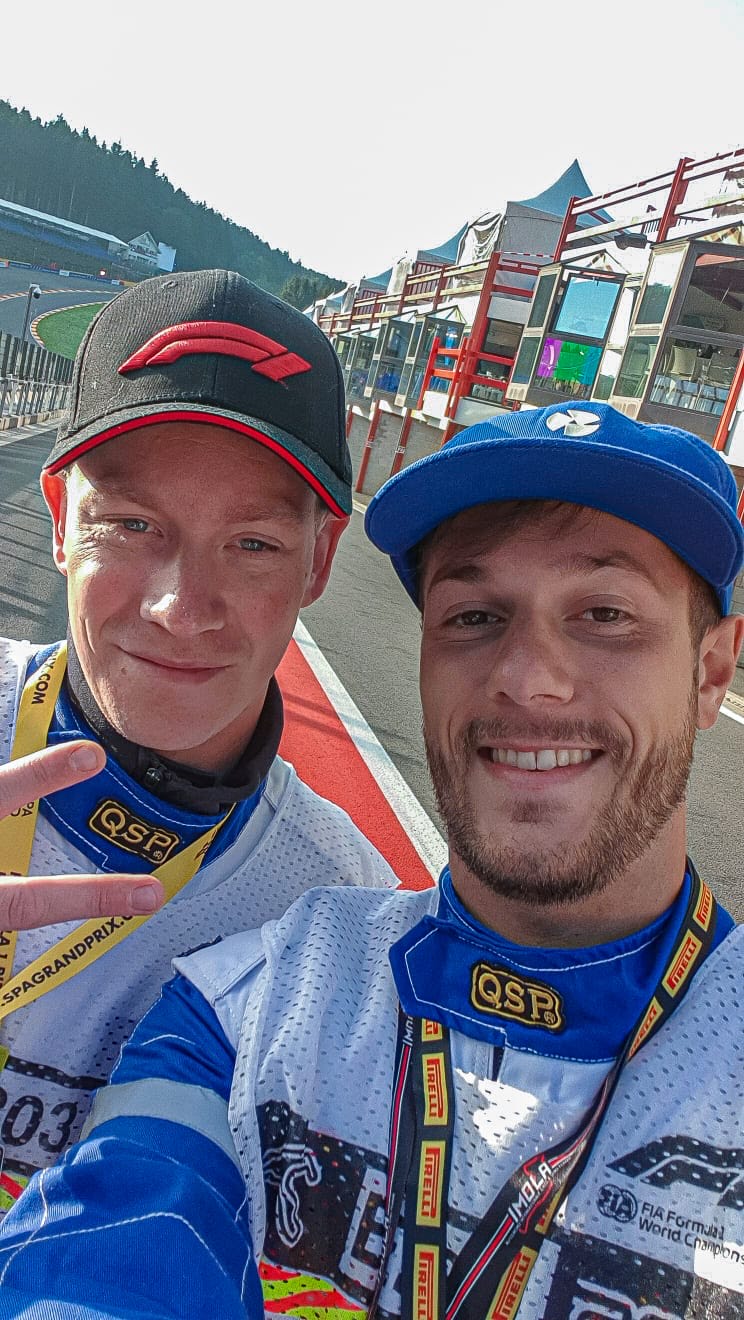 How well did you know Antoine and was he someone that you admired?
Well I'd known him for about 5 years. He'd just started to compete in Formula Renault 2.0. After every session I was in his box, waiting to scrutineer the car. After some moments, we started to exchange words and that was the beginning of our friendship. After the last race that weekend, he gave me his mobile number and asked if we could stay in touch. Antoine was the first driver with whom I've had a close relationship. 
I followed his career in the background and always gave him my full support. When he started to race in the GP3 Series (now Formula 3), our friendship even got stronger; I even visited him at several races. In the evenings during the weekends we tended to have a drink or dinner in the paddock together or visit a town near the track. 
In 2018, Antoine became the GP3 World Champion. For me it was like being a proud big brother. When he obtained a seat in the Arden Formula 2 team at the beginning of 2019, he gave me a call to tell me the news personally. We always had mutual respect of each other. Antoine also immediately accepted me being a gay person in motorsport. In fact, he truly was an inspiration.
His rising star will always be in my heart and we will carry his legacy for eternity.