Mike Beuttler: The Pioneer in Yellow
Words by Christopher Sharp. Transcription by Craig Woollard.
Mike Beuttler was the first openly gay Formula One driver, he was teammates with the likes of Ronnie Peterson and Niki Lauda. But he is largely forgotten by the F1 community, accept by those who knew him. On the afternoon of the 18th April co-founder Christopher Sharp sat down with one such person, former editor of Autosport Ian Philips over Zoom to find out first hand what Mike was like. And was he any good?
Ian Philips: He started racing mid-to-late '60s. Started to come good about 1969 – he was racing in Formula 3. It was mighty competitive in those days and he got himself a Brabham car and I think he won a couple of races in '69, sort of came to prominence, then carried on doing the same in 1970. Won two or three races there and moved into Formula 2. He had a great group of backers; principally Ralph Clarke and Malcolm Guthrie, I think, who were the first two guys that backed him. Later on it became a conglomerate of city people. Ralph Clarke was a city person, and Guthrie was from a racing family. Further down the line Mordent and Durlacher who were big city names joined.
They got in as a little conglomerate to back Mike, and he made his Formula 1 debut in 1971, I think, at the British Grand Prix with a privately-run March. They were all mates with Max Mosley who was running the brand-new March team out of Bicester. Max was big mates with Clarke particularly and it all centred around Mike. So, he was doing Formula 2 and intermittent Formula 1.
Mike won a Formula 2 race at Vallelunga in Italy in 1971 and then we all went to South America for three months where again he was racing a Formula 2 car and that's when I got to know about him.
I was a budding young journalist at the time and we had a wonderful time socialising, racing in South America. We were in Brazil for about six weeks, and then Argentina for six weeks. And so that's when I kind of got to know him. There was a big social scene but Mike was almost like the sort of guy you'd find in the pub, just a nice guy. And he had a very lovely girl called Anne accompany him to all the races, and she was absolutely gorgeous. The racing almost didn't matter, it was a fun thing for everybody to be doing.
And then in '72, he raced Formula 1 again as a semi-works March man with Ronnie Peterson and Niki Lauda as his team-mates.
In truth Mike wasn't the most talented of drivers, but he was a bloody hard tryer.
When you've got team-mates like Ronnie Peterson and Niki Lauda, you're certainly going to struggle a bit; but he soldiered on. To be fair the car really wasn't very good and the same in '73. His best result ever was seventh in the Spanish Grand Prix, which was one place outside of the world championship points; they only went down to sixth place in those days so sadly he never scored a world championship point. He retired from F1 at the end of '73 which is when a financial crisis started happening and that sort of closed down the stockbrokers and so on, so there was no money left for him to continue racing.
RP: Did he ever make any attempts to return to racing, (apart from the 1974 Brands Hatch 1000kms)?
IP: He kind of disappeared off the scene pretty quickly to be honest. I don't recall seeing him much after that. I may have done the following year but after 1973 he just disappeared.
RP: Did you ever hear from him again until he passed away, or?
IP: His sister, Jane, had called me to tell me he had died in '88. Ralph Clarke was, in the early-'80s, a director of March engineering here in Bicester and I used to socialise with Ralph and Max Mosley in London and we used to reminisce about the racing sid,e but I never recall getting an update on Mike. It could be that he had gone to California I think it was and that was that, he just disappeared of the scene as far as everybody was concerned.
RP: It would be interesting to see if you go back and study the racing records from that time, he could just crop up in a couple of national Californian races. It sounds strange that someone who raced in Formula 1 for three years and intensely for six or seven could suddenly just drop off the radar…
IP: I honestly don't recall hearing anything about him, especially from a racing point of view. He had been helped through his career in the UK by this gang of city people and when that necessarily came to a halt, he didn't really have anywhere else to go. And the money was also getting quite big too, relatively. It probably cost the consortium about £10,000 a year to go Formula 1 racing. Mike had got his own life, probably one that he couldn't live openly in the UK, and it was much easier for him to go off to California.
RP: How did the other drivers react to Mike being gay?
IP: It's funny because I'm not sure anybody really knew. We all just kind of suspected it. Because people weren't open about being gay in those days and he took this lovely girlfriend to all the races which I suspect was just to distract because people didn't come out as being gay in those days. Somebody like Max Mosley would have known but hey, it didn't matter. He was a nice guy. He was part of what we were doing. It really didn't matter at all. In the early '70s it just wasn't a thing that was really openly discussed and certainly motor racing was very macho and it was probably a bit like how football is now. There are a lot of closet gays in there but are not allowed to say so.
RP: Do you think he could have won races or at least been consistent points scorer
IP: I think he would have been a points scorer in a decent car. He was a real tryer, I had real admiration every time he climbed out of the car he was dripping in sweat.
Sadly the March cars in those days weren't particularly good. I think as much as anything, Mike got a bit frustrated because he knew that the cars weren't that good, he wasn't showing the best of his ability.
Would he have been a race winner or a champion? No, I don't think so.
RP: Moving away from Mike, you say it was an easy going environment, would you say that there was a regression in attitude that motorsport had in the next few decades? Because we're only now seeing drivers like Hurley Haywood come out, Danny Watts come out, after they retired. Would you say that in the late-'70s, '80s and '90s there was a regression in attitudes that made it harder for racing drivers to come out and be themselves?
IP: Yeah, I think that is the case. People felt that they weren't able to.
RP: You speak about this girl called Anne that Mike took to the races, would you say that he was semi-closeted in that case?
IP: Yeah, I think so because you kind of had to be in those days. Formula 1 was a bit macho and I think that definitely was the case. I don't think that bothered anybody. It was just a setup that worked for them. It [his sexuality] was all just kept a bit quiet which was a shame. But we just got on with life. It just didn't matter, nobody bothered about it.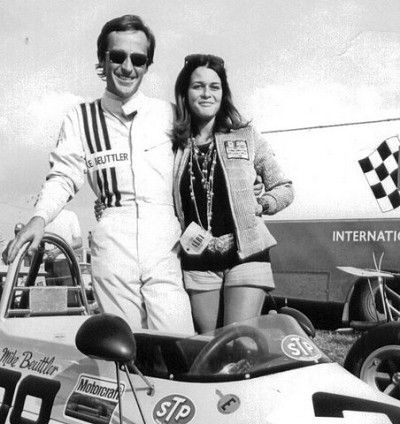 RP: Would you say if Mike had felt more comfortable being open about it and was completely uncloseted that he maybe without that background tension he would have been faster?
IP: Yeah, quite possibly. But if you've got that kind of thing in the back of your mind all of the time, pretending to be something that you're not, there must be a certain amount of stress involved. And when you drive a racing car. It would certainly help if you were able to concentrate 100% but one would suspect that one or two percent was missing somewhere.
RP: How did you feel when you had heard he had passed away?
IP: Very, very sad. And a lot of my contemporaries felt the same way. Because Mike was a really nice guy, we all liked him, and yes he disappeared out of view for a few years but it was a shock, a huge shock when I got the call from Jane to tell me he had passed away and I think the whole motorsport fraternity that knew Mike felt a very sad loss because he was such a nice guy.
RP: Do you think raising the profile of Mike will help provide a level of inspiration to those who are currently racing knowing that there was an openly gay F1 driver?
IP: Yeah. I definitely would. What has anybody got to hide now? The world has grown up. And to me I think it would be great in motorsport, in any kind of sport that people were open about it, if commentators didn't feel the need to mention it every time the guy came on the screen or whatever. It's just somebody getting on with life, enjoying themselves, enjoying what they do and hopefully doing it to the best of their ability.
RP: How important would you say that representation is in motorsport at the moment? Would you say that motorsport is still catching up from where it left off because we've talked with other people how there was a trophy called the Kay Petre Trophy for the best disabled female racing driver. Would you say that, I would like to think that we are going through a renaissance of inclusivity?
IP: Phwoar. I don't know where we're at right now! It might be difficult to say. I would just like to think that it was open, nobody need to question it, nobody has to write it on the side of their cars, nobody needs to have a badge on their overalls, you're just a part of the world. You're playing an important part; everybody can do in my eyes whatever they want. Nobody should find it offensive or otherwise. We're all living here on this planet, let's get on and enjoy it!
RP: As Liam Gallagher says, you only get to do it once, which is quite a good summary of it all. Do you have any other words you like to say on Mike? Anything that would be of interest to our viewers and our readers?
IP: He was a guy breaking new ground if you like. He wasn't the first gay person to race nor the last, but he was just a happy, friendly guy. Those are my memories really. And I know the same for people who ran his cars, fellow journalists, we all felt exactly the same.
RP: That's lovely to hear. One more quick question that's just come to my mind. Do you think that there are anymore, are you aware of any drivers in the F1 paddock among Mike's F1 paddock, or in the F2 or F3 paddock that were gay themselves but necessarily didn't talk about it that much?
IP: To be honest, no. I'm not sure.
RP: Memories of the Crystal Palace Formula 3 race?
IP: It's a very long time ago! You'll have to remind me… '70. So, James [Hunt] was just arriving on the scene in those days. He was a bit of a wild boy and James was leading and given the amount of experience he had he probably shouldn't have been. He had a certain level of talent James did but above all that he had certainly developed an intelligence that he only drove as fast as he needed to win. Mike would have been solidly chasing but not taking risks if you like. And Mike was about to take a step up in his career, what he needed was finishes and he had, I think he had three wins that year which is pretty good in what is a competitive category.
I was sitting at the North Tower Corner which the last corner before the start/finish line which is where James crashed and started throwing things and hitting people and so on. Do I remember what position everyone was in and who overtook what where and when? No, I don't. I used to know most things off by heart and years and years of 'hey, I'm free now, I don't have to remember those things', all I remember is that it was a great race, as races at Crystal Palace always were, and yeah, it's remembered for James crashing more than Mike finishing second but it was a good result and probably his last Formula 3 race I should think, getting close to the end of his Formula 3 career anyway. So, it was a bloody good result for him.
He was a smashing guy.
/